Soldier Goes Berserk , Kills Senior Officer Over Frozen Salary Account

By Andy 1 week ago 94
Crime / Law - Top Stories
---
Soldier Goes Berserk, Kills Senior Officer Over Frozen Salary Account.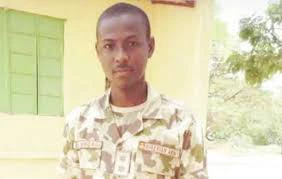 Lt. Babakaka Ngorgi was shot dead by his adjutant for his refusal to give him a travel pass that will enable him resolve his inability to access his salary account, which had been frozen for about 8 months.
Lt. Babakaka Ngorgi is a soldier serving with the 202 Battalion of the 21 Special Armoured Brigade, Bama, Borno State.
The incident occurred when the soldier approached the officer, who was standing in front of the unit's headquarters and making a phone call and emptied his magazine of 30 rounds on the officer.
The soldier (identity could not be ascertained) was arrested and handcuffed immediately.
The army clarified that the family of the deceased had been notified, adding that investigation into the incident had commenced.
[NewsNaira]
Soldier Killed
Current News
Nigeria News
---
Share this article!
<!—- ShareThis BEGIN -—> <!—- ShareThis END -—>
What is News₦aira Income Program(News₦IP)

---
News₦aira Income Program (News₦IP) is a system aimed at raising revenue for registered users that browse the NewsNaira Website. An online program driven by a goal of solving the financial problems among the youths, students, middle class and whoever wishes to take advantage of earning opportunity and making money online legitimately in Nigeria as it creates the channel for participants to earn residual income on weekly basis.
more
How News₦IP Works

---
News₦aira has 2 means of generating income for our members.
News₦AP: NewsNaira Affiliate Program - With News₦AP, participants earns ₦1,000 whenever they refer anyone to join NewsNaira Income Program. There is no limit to how many people you can refer.

News₦ARS: NewsNaira Ad Revenue Sharing - With News₦ARS, participants earns residual income bonus by reading news, commentting on articles, publishing forum posts, daily login to their NewsNaira account, and even sharing assigned sponsored post on social media.

We share our ads revenue with you weekly when you make NewsNaira community your news and information household.
more